CBD Hemp Breeding & Farming
Unique CBD cultivars developed and grown in Northwestern Vermont
Upstate Elevator Supply Co. is pioneering CBD hemp breeding and farming in Vermont.
In 2015, Upstate's team initiated a breeding program to develop unique Vermont CBD hemp cultivars. This year, the company partnered with
Kria CBD
and
Evergreen Capital Management
to grow 1000 plants on a two acre plot in Charlotte, Vermont. Production will be expanded in 2018 with new farmers, and vertically integrated processing and extraction.
There is a strong standard of agricultural excellence here in Vermont, and Upstate is committed to these standards in its production methods. Currently, the organically grown, pesticide-free, non-GMO hemp used in Upstate's product line is sourced from both Vermont and Colorado, with the goal of using 100% Vermont grown hemp by the end of 2018.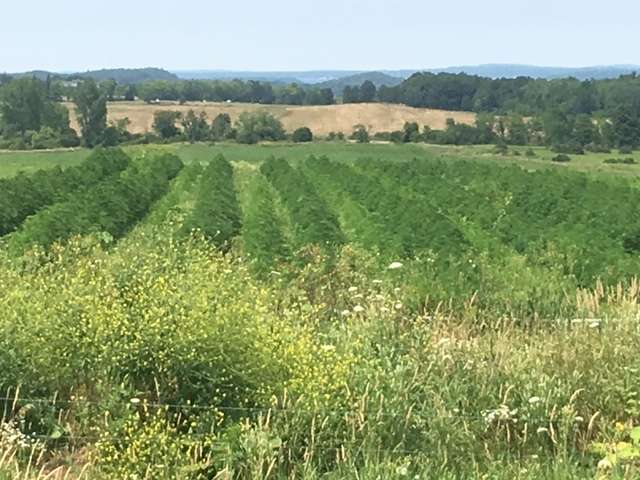 Our research is focused on the development of high CBD:THC varieties that are optimal for the short Vermont growing season.
We have isolated the earliest flowering cultivars and inbred them to the F3 generation selecting for yield, oil content and early finish. Our two acre plot in 2017 was comprised of plants from this seed stock as well as select clones from the year one grow. While both yield and maturation rates were improved across the board in year two, we continue to strive to improve terpene expression and diversity.
Heading in to year three (2018) we have found growing from clone to be too cumbersome at scale. We will be implementing a feminized seed strategy with a focus on developing highly terpinated strains acclimatized to our relatively short Vermont outdoor growing season.

The lines that we will be developing for the 2018 grow include Cherry x Cherry, Cherry x Baox, Cherry x Chinese landrace hemp, Cherry x German industrial hemp, #5 x Baox, #5 x Otto II, and #5 x Avi Dekel. For these hybrid lines we will be targeting at least 10% CBD content by dry weight as the bar for further genetic exploration.